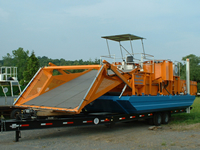 AlphaBoats FX-11 Series Aquatic (Water Weed) Harvester



Alpha Boats Aquatic Water Weed Harvesters Standard Features
A Complete Hydraulic System for all harvesting, load handling, and propulsion functions, with variable speed control at the operator's finger tips

Diesel Engine/Hydraulic Power Unit, with heavy duty battery under a lift-up hood..

Lockable hydraulic oil and diesel fuel tanks, hydraulic directional valves, filtration.

Operator's platform with a seat and console with engine controls and monitoring system including warning lights, tachometer & hour meter, and hydraulic controls with pressure gauge.

Conveyor belt system made of heavy duty open mesh galvanized steel supported by UHMD plastic tracks and interchangeable floors.

Harvesting head with adjustable depth setting, as well as swing back impact relief.

Storage Conveyor with load indexing and height adjustable discharge.

"Hydro-dynamically" shaped hulls, including multiple compartments, inner ribbing, tie and lift cleats, drains & vents, anti-skid deck, and bottom skids.

Two independent, bi-directional, hydraulically driven Paddle Wheels with variable speed controls.

Paddle Wheel tilt-up system for road transport (on FX Models).

Railings & guards.

Stainless steel fasteners.

Marine coating, following sandblast preparation, included priming and finishing coats.  Standard colors are orange with blue accents.

Fire extinguishers and Life jacket.

Operators  manual, parts catalog, and one year warranty.
Available Options
Stainless Steel Hull
Stainless Steel Conveyor Belt (on harvesting head only)
Cleats on Front Conveyor Belt
Alternate Engine Choice
Working Lights
Sun/Rain Roof
Operators Cab (not on all models)
Air Conditioner/Heater (not on all models)
Alternate Paint Color
Machine Wash-Down System
Trash Collecting Package
Hydraulically Powered Spud Anchors
Hydraulic Quick Disconnect Outlets, (1/2" Standard)
Spare Parts Packages (Std. & Extended)
Tool Kit & Box