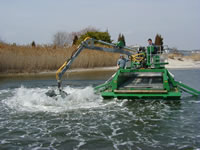 AlphaBoats AM-2000 HydroMate
The standard AM-2000 is featured and equipped with the following:
Forward mounted hydraulic crane.
A complete hydraulic system for all material handling, and propulsion functions, with variable speed control at the operator's finger tips.
Diesel hydraulic power unit, with heavy-duty battery under a lockable fold-up hood.
Lockable hydraulic oil and diesel fuel tanks, hydraulic directional valves, and dual filtration.
Operator's platform with a seat and console with engine controls and monitoring system including warning lights, tachometer and hour meter, and hydraulic remote controls with pressure gauge.
Conveyor belt system made of heavy-duty open mesh galvanized steel supported by UHMD plastic tracks and interchangeable floors.
Storage Conveyor with load indexing and height adjustable discharge.
"Hydro-dynamically" shaped hulls, including multiple compartments, inner ribbing, tie and lift cleats, vents, anti-skid deck, and bottom skids.
Two independent, bi-directional, hydraulically driven Paddle Wheels with variable speed controls.
Bow stabilizers.
Railings and guards.
Stainless steel fasteners.
Marine coating, following sandblast preparation, includes priming and finishing coats.
Operators Manual, Parts Catalog and One Year Warranty.
Available Operating Attachments:

Clam Grapple
Rotor Clam Shell with Drains
Single Acting Rake
Log Grapple
Recovery Crane with Winch